PRAISE FOR
Ecosexuality
When Nature Inspires the Arts of Love
"This is an epic book, a classic, and one which everybody needs to get, especially sexuality educators who truly want to understand how significantly our sexuality is correlated with our ecology!"
—Dr. Martha Tara Lee, Clinical Sexologist of Eros Coaching
"A fantastic lineup of authors. The teachers in this book are paving a new path; one that melds our personal sensual reality with the larger currents of our natural environment—a connection that is essential to our planet at this time."
—Amara Karuna, Artist, Author, Tantric Teacher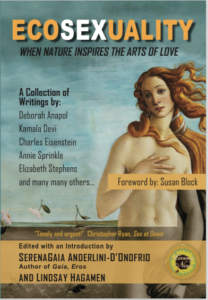 "Ecosexuality points toward a Super Natural Earthy Spirituality, drops the fig leaves, and reclaims sexuality's right relationship with Nature and the Cosmos."
—Kelly Bryson, MA, MFT, CNVC Certified Trainer, Founder of Intimate Nonviolent Communication and Leader in New Culture Community
"Ecosexuality addresses the connection between sexuality and consciousness on a planetary scale. The practices, experiences, reports, visions, poems, and theories in this volume will inspire more awareness of sexual energy in relation to global health in the aggregate of human and natural resources. An amazingly diverse and inspiring group of authors has converged to convey the transformative potential of ecosexual love.
The book maps ways that the cultural practice of ecosexuality can address plights like human addiction to the extractive industries, mass incarceration, and the criminalization of love. Ecosexuality reminds us that embracing our sexuality may hold a key to inspiring a regenerative, loving relationship with the planet and all its global citizens. A must read for anyone interested in pleasurable ways to create a more sustainable world!"
—Baba Dez Nichols, Founder of ISTA, International School of Temple Arts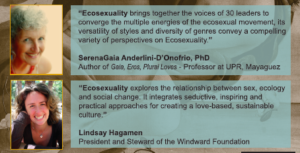 "Seeking more awareness, energy, consciousness, love, symbiosis? Ecosexuality is the perfect place to start your journey. This heartfelt compilation by SerenaGaia Anderlini-D'Onofrio and Lindsay Hagamen may just be the blueprint the world needs in order to shift the tide from competition for diminishing world resources to the truth that only love is truly real and is therefore, the deep well of infinite resource we are all seeking."
—Robyn Vogel, MA, LMHC, Psychotherapist and Intimacy Coach

"Ecosexuality is a vital, life-giving concept, and this vital volume explores it in a way that is truly inspiring. Offering beautiful views of orgasm, touch, love, community, eros, ecology, and consciousness, this collection energizes the ever-growing awareness that love is not a scarce resource, but rather an abundant energy that is ever-renewable, ever-sacred. . . an energy that, once we fully recognize it, can allow us to more fully emerge as human beings on a more humane planet.
—Dr. Anya, Author of Opening Love: Intentional Relationships & the Evolution of Consciousness
"Those of us wanting to join together in co-creating inclusive, thriving, love-infused ecosystems can find nourishment in these wholesome expressions of possibility and intention."
—RickWilkes, Thriving Now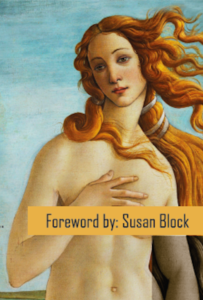 "The work of our time is to reawaken our capacity as a species to cultivate erotically intelligent intimate partnership with the living planet, the source of our survival and our thriving. Ecosexuality offers teachings for how to take our place as both reverent participants and witnesses in service of the miracle that is this great experiment called Life. These teachings have the potential to define a new era of humanity."
—Christiane Pelmas, Author of Women's Wisdom, Coach at The Rewilding
"Celebrating the birth of this beautiful piece of writing. A lovely collage of Divine Wisdom shared by teachers and practitioners of sacred sexuality."
—Rev Jaitara Ashlie, Ecstatic Self-Love, Ecstatic Life
"A warm welcome to this breakthrough book: a needed book, a book that challenges conventions and opens up mind, body and soul to new and delicious ways of thinking about sex, biology, gender and one's connection to the Earth.  Both practical and poetic, this book is a must read for every woman."
—Marni Freedman, LMFT, Author, Therapist, Screenwriter
"Witty, seductive, intriguing—delicious! From science and philosophy, to art and fantasy, leading visionaries shamelessly flirt with, tease and inspire the ancient sublime erotic in each of us to come out of hiding and help humanity at this most critical time. Skilfully, sensitively, and artfully compiled and edited by SerenaGaia Anderlini-D'Onofrio and Lindsay Hagamen, Ecosexuality delivers the goods with grace and passion."
—Randy Ralston, Certified Sexological Bodyworker, Somatic Intimacy Coach in Ireland